Regarding exceptional craft beer, Birmingham, a vibrant city in the heart of England, has become a haven for beer enthusiasts. With a burgeoning craft beer scene, Birmingham has witnessed the rise of numerous breweries, each offering its unique flavors and brewing techniques.
We pride ourselves on thorough research and extensive expertise in craft beer. Our team of beer enthusiasts has diligently explored the breweries in Birmingham, tasting a diverse range of beers and analyzing the craftsmanship behind each pint. Our goal is to provide you with an insightful guide that highlights the very best that Birmingham's beer scene has to offer.
Hey! Did you know that one of the breweries on our list has an on-site distillery offering a unique selection of spirits in addition to their beer?
Here's our list of the top 10 best breweries in Birmingham.
Avondale Brewing Company
Good People Brewing Company
Trim Tab Brewery
Ghost Train Brewing Company
Cherry Reds
Siluria Brewery Company
Back Forty Beer Company Birmingham
Tilt
The Wolf
Dig Brew
Read More:  How Many Modelos to Get Drunk? Find Out Here!
The Top 10 Breweries in Birmingham
Birmingham's buzzing beer scene has plenty to offer beer enthusiasts. Here's a roundup of the top 10 breweries in Birmingham, each with its unique story and delicious brews.
Birmingham, Alabama, is known for its southern charm, friendly people, and delicious food.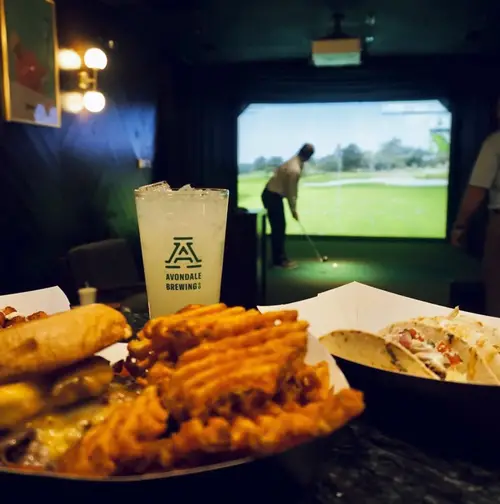 Image Source: Avondale Brewing Company
Established in 2011, Avondale Brewing Company has quickly become one of Birmingham's most iconic breweries. Located in a historic building in the Avondale neighborhood, this brewery combines its southern roots with its love of beer to create a rustic and modern atmosphere.
Notable beers from Avondale Brewing Company include the Vanillaphant Porter, Spring Street Saison, and Miss Fancy's Tripel.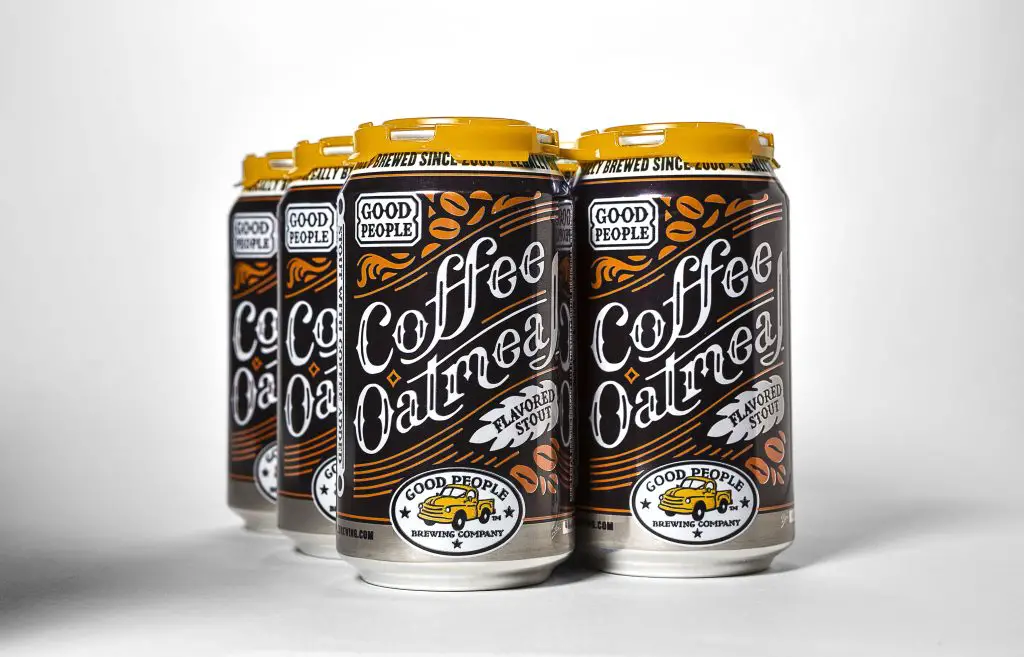 Image Source: Good People Brewing Company
Good People Brewing Company was founded in 2008 and is perhaps the most well-known brewery in Birmingham. It was the first brewery in Alabama to can its beer. Good People is known for its high-quality, consistent beers and has won numerous awards for its brews. Their notable sour beers include the Snake Handler Double IPA, the Bearded Lady American Wheat, and the Mumbai Rye IPA. Be sure to try their flagship IPA, the Snake Handler, renowned for its hop-forward flavors. This is why it is the best Birmingham district brewing company.
Read More: Can You Get Drunk Off Non-Alcoholic Beer?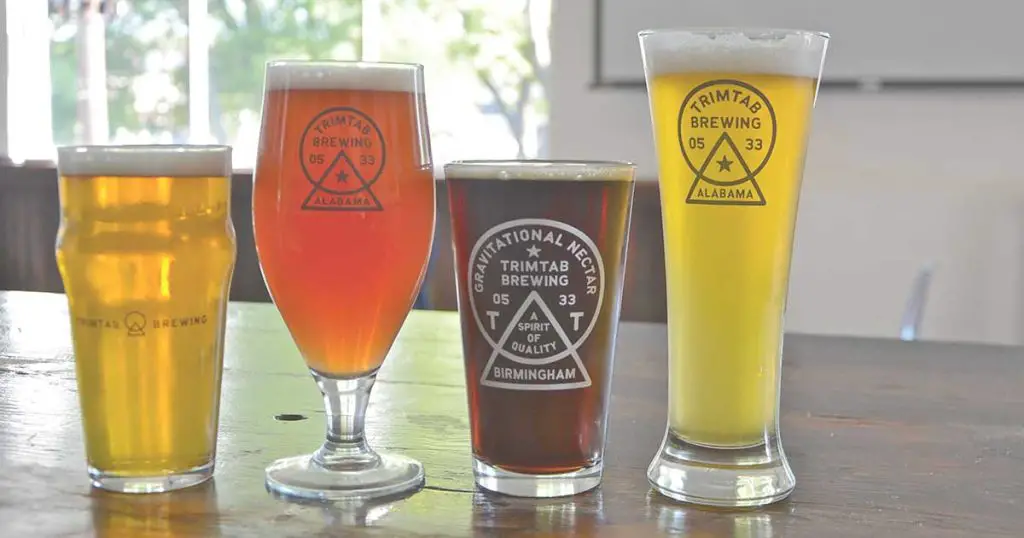 Image Source: Trim Tab Brewery
Trim Tab Brewery is a newer brewery in Birmingham opening in 2014. However, its innovative and unique brews have quickly made a name for itself. Trim Tab focuses on using local ingredients and creating sustainable and eco-friendly beer. Notable beers from Trim Tab include the Raspberry Berliner Weisse, the IPA, and the Paradise Now.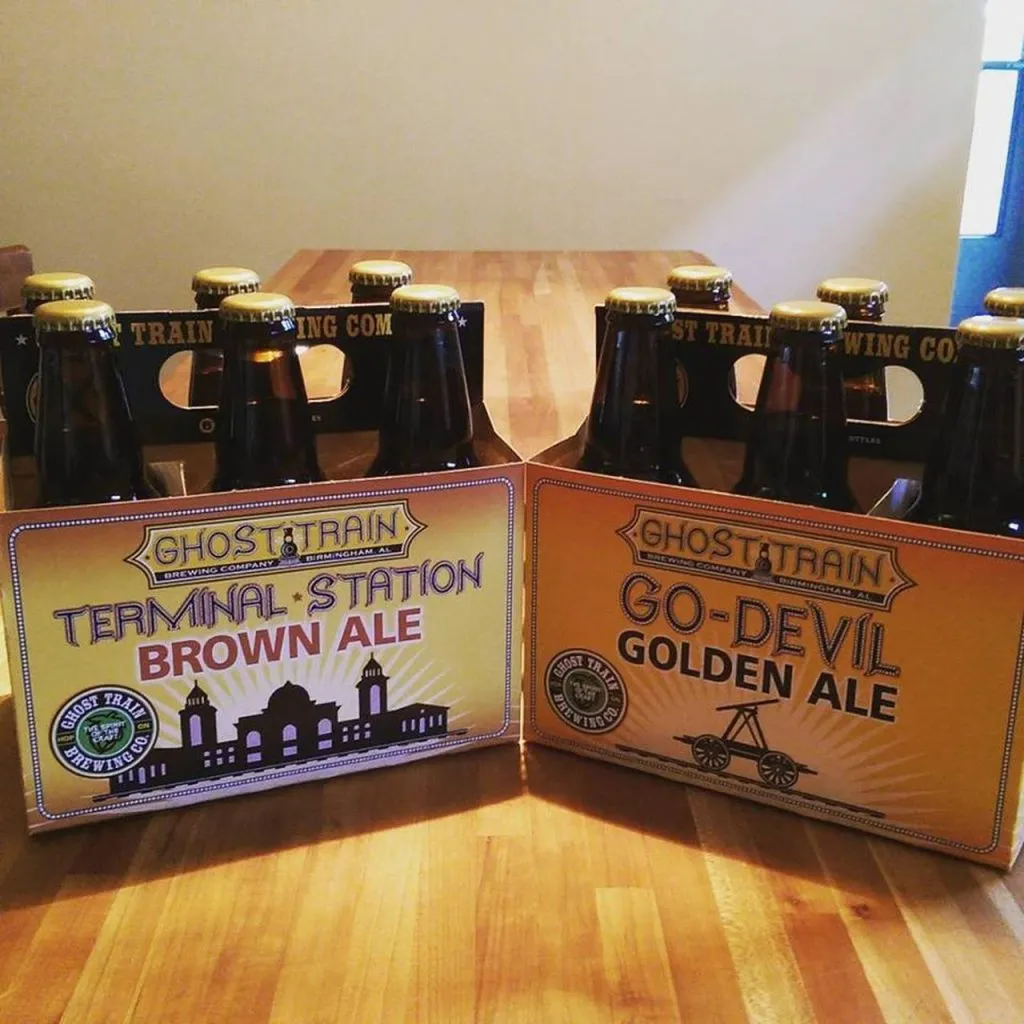 Image Source: Ghost Train Brewing Company
Housed in a beautifully restored historic building, Ghost Train Brewing Company combines Birmingham's rich heritage with a passion for crafting exceptional beers. Their ever-evolving lineup includes the flagship Go-Devil Golden Ale and the intriguingly complex Terminal Station Brown Ale, earning them recognition as one of the city's most beloved breweries.
Notable beers from Ghost Train include the Go-Devil Golden Ale, the Kaleidoscope Kettle Sour, and the Dark Ride Belgian Dubbel.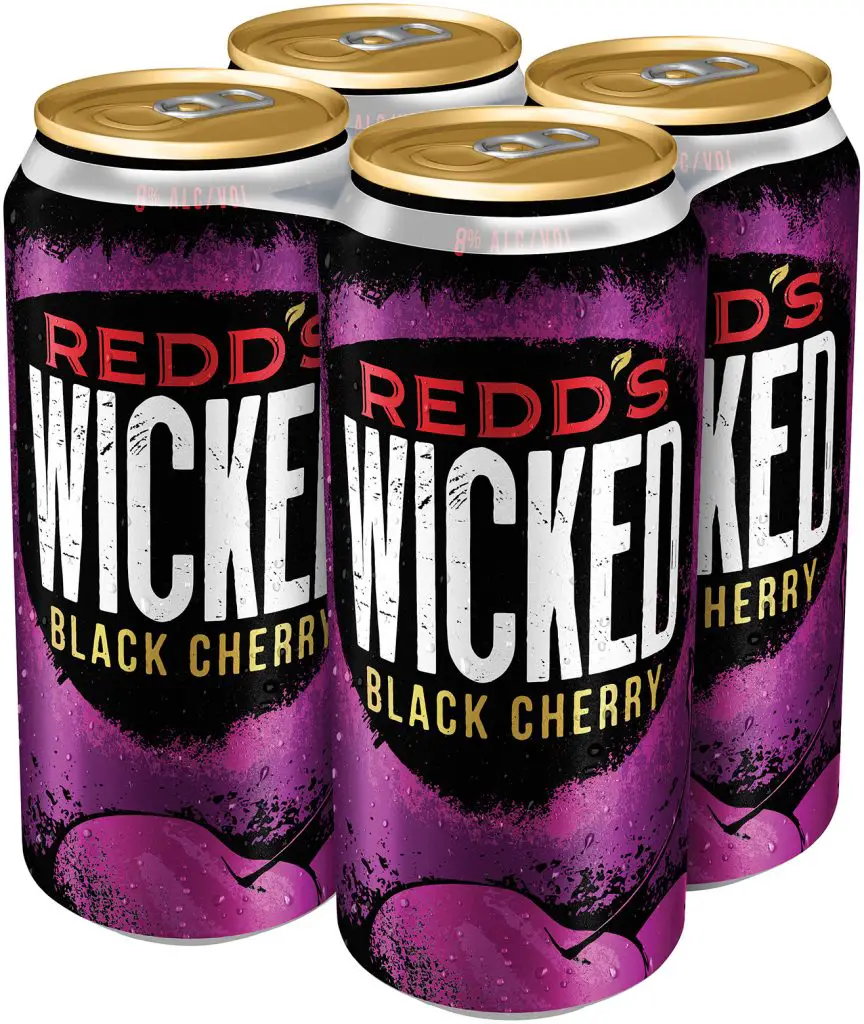 Image Source: Cherry Reds
Discover the Delights of John Bright Street: Cherry Reds, an Unconventional Gem! Cherry Reds goes beyond the ordinary by featuring the delightful Liefmans Fruitesse on tap—a refreshing, fruity local beer reminiscent of cherryade but with a grown-up twist.
Additionally, their ever-changing selection of beers on tap allows you to explore new flavors while enjoying their delectable food and tempting cakes. Ideally, you'll love their food trucks For added entertainment, they even offer board games for some friendly competition, be it a thrilling game of Scrabble or other favorites.
Read More:  How to Hard Pour a Beer: Perfect Your Pouring Technique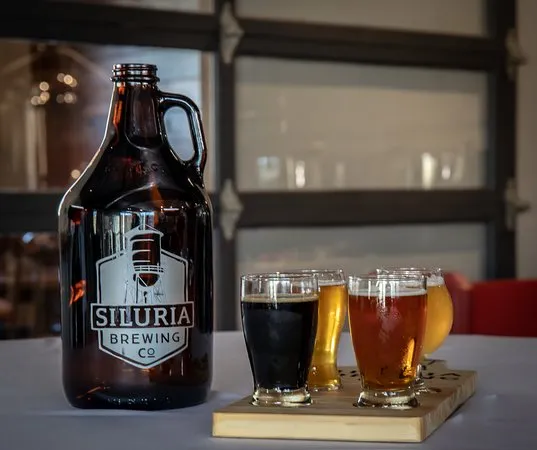 Image Source: Siluria Brewery Company
Siluria Brewery Company is a small, family-owned brewery in Alabaster, just south of Birmingham. It is known for its creative and unique brews and commitment to using only the highest quality ingredients.
Their taproom offers an inviting space to savor their meticulously crafted beers. Notable beers from Siluria Brewery Company include the Warrior's Pride IPA, the Castle Rock Brown Ale, and the Siluria Saison.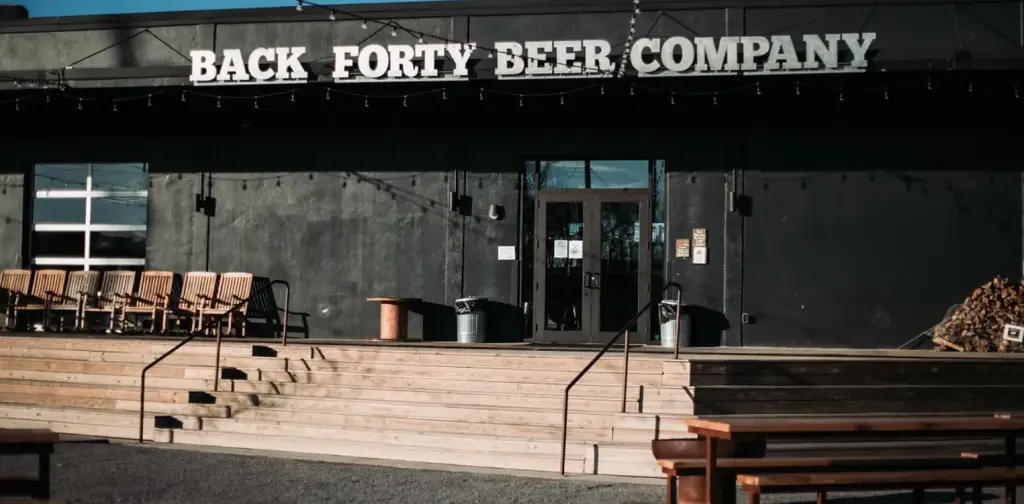 Image Source: Back Forty Beer Company Birmingham
The Back Forty Birmingham Beer Company opened in 2018 and quickly became a favorite of locals and visitors alike. This brewery is known for its fresh, flavorful beers brewed using local ingredients whenever possible. Notable beers from Back Forty Beer Company Birmingham include the Naked Pig Pale Ale, the Truck Stop Honey Brown Ale, and the Paw Paw's Peach Wheat Ale.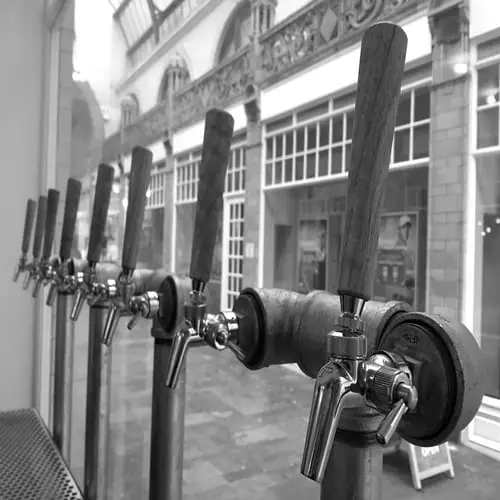 Image Source: Tilt
Tilt is a new brewery in Birmingham that opened in 2020, and it has already made a name for itself as a must-visit spot for beer lovers. The brewery focuses on creating both flavorful and unique beer, focusing on using local ingredients and creating innovative brews.
Notable craft beers from Tilt include the Drip Drop IPA, the Peachy Keen Sour, and the Be Mine Chocolate Stout.
Image Source: The Wolf
The Wolf is a small brewery located in downtown Birmingham that focuses on creating a beer that is both flavorful and refreshing. This brewery has a laid-back, welcoming atmosphere perfect for enjoying a pint or two with friends. In addition, their taproom features a unique "beer wall" where you can pour your beers. 
Notable beers from The Wolf include the Howling Helles Lager, the Wolf Pup IPA, and the Midnight Ramble Stout.
Read More: The Best Caramel Beer: Top 10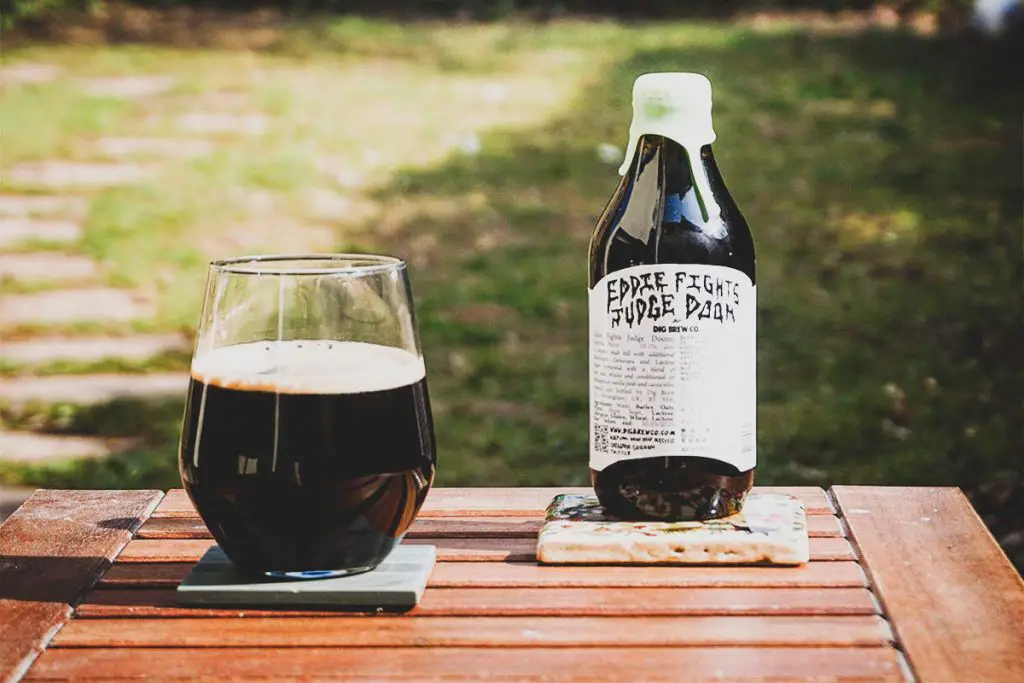 Image Source: Dig Brew
Digbeth's pride, Dig Brew, stands as a brewery and taproom embodying Birmingham's spirit. And here's the icing on the cake – they also serve mouthwatering pizza. With an ever-changing lineup of beers on tap, Dig Brew's dedication to creating and collaborating on new brews ensures a delightful experience.
Brewery Tours and Tastings in Birmingham
Birmingham, a city bursting with craft beer creativity, invites you to explore its flourishing brewery culture through captivating tours and tastings. So if you would love a tour, here are a few stops to pay a visit.
TrimTab Brewing Company
TrimTab Brewing Company offers tours and tastings on Saturdays, including a guided brewery tour and a tasting of six beers. The cost is $12 per person, and reservations are recommended. Also, look out for their themed tasting events, such as beer and food pairing nights or collaborations with local artisans.
Back Forty Beer Company
Guided tours are held on select days. Visit their website or contact them for tour schedules. They have an average cost of $10 per person. Also, watch their calendar for special events like tap takeovers and beer release celebrations.
Conclusion
Birmingham is home to some of the most impressive breweries in the country. From well-established breweries like Good People Brewing Company to up-and-coming ones like Tilt and Dig Brew, there is something for everyone in Birmingham's craft beer scene. So, grab a pint, sit back, and enjoy a taste of the South with the top 10 breweries in Birmingham.