Atlanta, the capital of Georgia, has a thriving Atlanta's craft beer scene worth exploring. With over 70 breweries in the state, Atlanta has established itself as a hub for beer enthusiasts. The city's breweries offer diverse beer styles, from IPAs to stouts and everything in between.
To provide you with the best information on Atlanta's breweries, we've researched the top-rated breweries in the city. As a language model, we can access vast information and provide insights into various topics. We've also consulted with experts in the field to ensure we provide accurate and up-to-date information.
One interesting finding we discovered is that some of the breweries in Atlanta have been around for over 20 years, while others are relatively new and have already established a loyal following.
Below are some top-rated breweries that are located in Atlanta.
Hippin' Hops Brewery
Torched Hop Brewing Company
Best End Brewing Co.
Halfway Crooks Beer
Second Self-Beer Company
Bold Monk Brewing Co.
Steady Hand Beer Co.
Fire Maker Brewing Company
Arches Brewing
Eventide Brewing
The Best 10 Breweries In Atlanta
Hippin' Hops Brewery
Recently opened in the East Atlanta Village, Hippin' Hops Brewery is an exciting new Black-owned production facility. The brewery delights locals and visitors with quality craft beers within its walls.
A Paradise for African-American culture and beer enthusiasts, an atmosphere of togetherness is created at this unique establishment. With a welcoming atmosphere, it is the perfect spot for those looking to appreciate and experience African-American culture and enjoy their favorite beverage.
Also read: The 5 Best Outdoor Kegerators: A Comprehensive Buying Guide
Creatively named beers characterize Hippin' Hop city beer, featuring an array of ale varieties from The Cookout, a light smoked wheat brew, to Skrawberri, a hazy strawberry IPA. There's sure to be something for every taste in their extensive selection.
Parched patrons of the public house can choose from various draft beers, such as the refreshing Hater-aid shandy and Black Don't Crack stout – an indulgent choice full of rich flavor.
But Hippin' Hops isn't just a place to grab a drink. They also serve an impressive array of seafood dishes, like gator bites, cajun shrimp deviled eggs, and oysters. And if you're looking for a brunch option, they've covered you with their beer.

Image credit: hippinhopsbrewery.com
Torched Hop Brewing Company is just across the street from Mary Mac's Tea Room on Ponce De Leon Avenue in Midtown.
Chris and Stephen Bivins, two Atlanta-born locals, opened their brewery and are bringing unique flavors to the area. Their brews feature not only original recipes feature original recipes and unconventional yet tasty menu items to go with them.
Also read: The 5 Best Mini Kegerators of 2023: A Complete Buying Guide
Torched Hop's diverse and unique selection of drinks includes the Southeastern Cold IPA (6.7%), an invigoratingly robust beer with a crisp, refreshing taste; the Tribunal-Double IPA (8.5%) for those who want to be adventurous;
The Scars Remain V.2-Barrel Aged Stout (12.2%), Spoondrift Raspberry Gose (4.9%), a complex, deep stout with strong coffee notes; and last but not least, a tart and fruity brew that is perfect for any occasion.
3. Best End Brewing Co.
Best End Brewing Co. is a brewery, tiki bar, and restaurant in the West End neighborhood of Atlanta, Georgia. It is widely regarded as one of the top breweries on the west side of Atlanta, and for good reason. Best End offers a wide selection of nitrogen beers and traditional to satisfy even the most discerning beer drinkers.
One of the standout beers at Best End is the Lack of Fokus Hazy Rye IPA, which boasts a 7.1% ABV. This beer is known for its unique blend of rye and hazy IPA flavors that come together to create a truly one-of-a-kind beer experience. The smooth and creamy texture of Holy Shenanigans Dry Irish Stout, combined with its roasted flavor, make it a beer many appreciate; this malty ale is 5.5% ABV.
The adventurous can try End Best's Salsa Shark Gose, a 4.0% ABV beer made with fresh salsa and sea salt. For a unique experience, this concoction offers something truly different.
Gose beer fans looking for a bit of spice should try this brew: it melds the tartness of the style with a gentle kick, making it perfect for those seeking some extra zing.
For the hot summer days when you need something light and refreshing, the Anxiety Pils American Pilsner is an ideal choice. This 4.9% ABV beer has a crisp flavor and is easy to drink, making it perfect for craving a refreshing beverage.
The Troy and Abed in the Morning extra foreign stout is a 7.5% ABV beer brewed with a blend of dark roasted malts and a rich, chocolatey flavor. This beer is perfect for those who enjoy a strong, bold beer that packs a punch.
4. Halfway Crooks Beer
Halfway Crooks Beer, located in Summerhill, has gained a loyal following since it opened last summer. Their minimalist approach is refreshing when many breweries push the envelope with flashy packaging and high-ABV beers. Instead, Halfway Crooks focuses on crafting highly drinkable Belgian-style lagers and ales.
Halfway, Crooks pays special attention to every minor detail, even in the design of their labels reminiscent of classic paper printouts. Their tallboy cans feature one-of-a-kind labels that create a retro look, giving them a distinctive look.
While lagers and seltzers have dominated the beer market recently, Halfway Crooks beer still has a place for other beer styles. They offer a range of special projects in addition to their German pilsners, American ales, and Belgian-style witbier.
5. Second Self-Beer Company
The Self Second Beer Company, located in West Midtown, is renowned for its flavorful Game Night IPA, available in cans adorned with a Nintendo NES controller design. This India Pale Ale has become a staple of the brewery.
The brewery is well-known for its signature beer but also offers La Fria Caribbean Lager as another popular option. This lager, due to its versatility, has gained a great amount of popularity among beer drinkers.
Second Self's New Contender series, currently in its fourth round, may interest those who prefer more complex beers. These two-hopped hazy IPAs are sure to provide an enjoyable experience.
Self has released a limited-edition cashmere and lemon drop IPA to celebrate National IPA Day. This beer is part of the collection of brews created to honor the special day.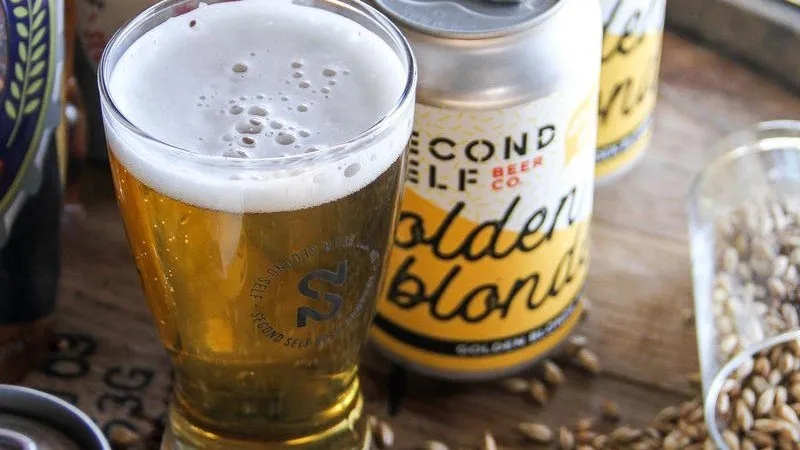 Image credit: secondselfbeer.com
6. Bold Monk Brewing Co.
Bold Monk Brewing Co., a highly esteemed brewery, is situated on the Westside of Atlanta, Georgia. This remarkable establishment is popular for its distinctive library, allowing customers to relish some exquisite beer while reading a book in a tranquil atmosphere.
At Bold Monk Brewing Co., guests are warmly welcomed with a pleasant atmosphere that allows them to relax and savor the experience. With beers of remarkable flavor and quality, each distinct selection suitable for any taste, guests are sure to find the perfect match.
Also read: How Long Does Beer Last in the Fridge? Tips to Keep It Fresh
The Bold Monk presents the timeless and highly popular Discipline Dubbel with an ABV of 7.3%. Customers delight in this brew, as it provides an enjoyable and flavorful experience for beer lovers.
The Way Tripel, a Belgian-style beer with an 8.8% ABV, is ideal for those who want to experience a more robust brew this season. Its unique flavors of toasted bread, brandied cherry, and caramel make it an excellent choice for fall.
The Shared Spirit IPA offers a great-tasting IPA option for those who appreciate the style, while Bold Monk Brewing Co. provides high-ABV brews to help keep warm on chillier days.
7. Steady Hand Beer Co.
Steady Hand Beer Co. is making a name for itself in Atlanta, with its selection of craft beers being particularly admired. Among their most popular recipes is the Flower Business Double IPA, which can always be found on tap. This brewery has won over many fans in the local area and continues to gain traction.
For the fall season, something perfect to try is their newest limited-edition brew called "Floating on a Marshmallow Sea." Boasting rich and decadent flavors, this beer's unique combination of coffee, vanilla, marshmallow, and coconut provides an unforgettable flavor experience.
Steady Hand Beer Co., located on the west side of Atlanta, invites you to come in and enjoy a cold beer surrounded by a casual atmosphere, ideal for spending quality time with your friends.
Steady Hand offers the perfect atmosphere for wild heaven beer lovers, with their commitment to brewing high-quality beer in small batches that promise consistent and flavorful results. Whether you're a connoisseur or just looking for a place to hang out and have a good time, check out Steady Hand.
8. Fire Maker Brewing Company
Since it opened in early 2020, Fire Maker Brewing Company has fast become a popular spot on the West side, rubbing shoulders with other Atlanta breweries despite tough competition.
Fire Maker has established a spacious warehouse on Chattahoochee, home to an impressive selection of flavorful brews known primarily for incorporating lactose, providing an extra-creamy richness.
Also read: How Long Does It Take for Beer to Ferment? Explained.
The Dr. Mungo C.V.C stands out amongst the other brews; it is a double imperial stout with an unexpected level of drinkability, despite its high alcohol content.
The Chattahooch-Tea lactose IPA is a very popular option, blending two teas with Lemondrop and Motueka hops to create a beer similar to an Arnold Palmer with its unique twist. The combination of these ingredients creates a flavor like no other.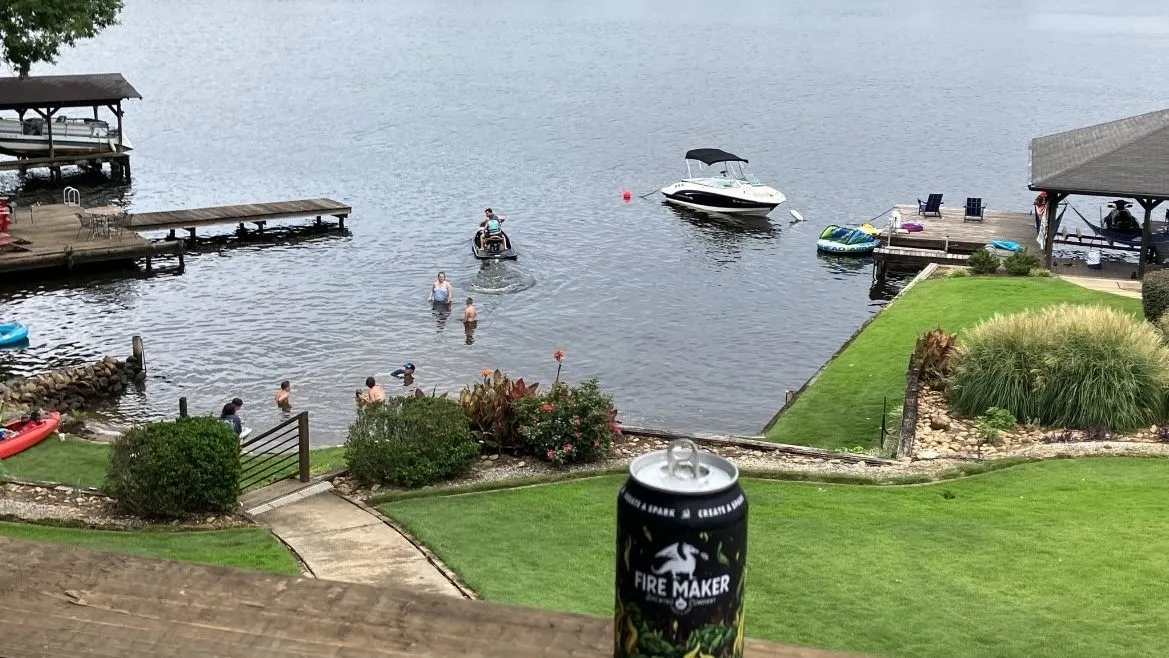 Image credit: firemakerbeer.com
9. Eventide Brewing
In the Peoplestown area of Atlanta, Georgia, stands one of the city's finest craft breweries – Eventide Brewing. Established in 2014, this brewery has earned a great reputation for producing high-quality beers. Thus making it a well-known name among craft beer lovers.
Eventide Brewing's Kölsch is a firm favorite amongst both locals and visitors. With its delicious flavor, the Kölsch comes in two varieties: fruited and an aromatic honeysuckle Arbor Ale version. This beer has become one of the most popular at Eventide Brewing.
Eventide Brewing's Pair of Kings double IPA is a well-noted beer boasting an 8.3% ABV – making it a great choice for fall. This standout beer is praised by many for its unique taste and bold character.
Also read: How Long Is IPA Beer Good For? Don't Make These Mistakes
This beer has an attractive matte black and orange can. At the same time, the hoppy citrus notes will have a slightly boozy heft. However, the higher alcohol level is tamed in terms of taste, providing balance to its flavor.
10. Arches Brewing
Arches Brewing, situated in Hapeville, Georgia, is widely acclaimed for producing excellent craft beer. Their fame has been increasing significantly in recent years.
Justin Ramirez' appointment as the head brewer has enabled the brewery to become more daring in its offerings, despite its previous focus on combining the more traditional Belgian brewing methods and the new American style brewing.
Arches Brewing, though, features an expanded selection of beers. It still carries its signature Low Viz IPA and Mexican Empire Vienna lager – both of which have won substantial favor amongst fans.
The brewery has focused on celebrating the local neighborhood with its Southside-themed brews and a 10% discount on draft beer for customers that support businesses in Hapeville, East Point, and College Park. Arches Realm Brewing offers its honorable tribute to the area nearby with this special deal.
To get the Southside discount, show a receipt from one designated area when ordering Southside Lager or Southside Grind Lager. Presenting a receipt from businesses in these areas will give customers access to this special offer.
Brewery Tours And tastings In Atlanta
Atlanta Brew Bus Tour: This 5-hour tour takes you to three unique breweries to sample their beers and learn about their Monday night brewing process. You will start with a private tour and guided tasting at SweetWater Brewing—one of the largest craft breweries in the south. Then, you will visit two more breweries, depending on the day of the week. You will also get a gift bag with water, a snack, and a koozie.
3-Hour Atlanta Beltline Food, Street Art, and History Tour combine beer tastings with food and culture. You will walk along the historic Inman Park neighborhood, where you will see street art, architecture, and landmarks. You will also stop at four local restaurants to enjoy dishes paired with craft beers.
ATLANTA Yes, Queen! Drag Queen Pub Crawl: This tour is for those who want fun and entertainment with their beer. You will join a group of fabulous drag queens as they take you to four of the best gay bars in Atlanta. One will enjoy drink specials, live performances, games, and prizes. You will also get a souvenir photo and a tiara.
Conclusion
After exploring the top 10 breweries in Atlanta, it is clear that the city has a vibrant and diverse craft beer scene. From classic styles like IPAs and stouts to unique offerings like sour beers and barrel-aged ales. Atlanta's breweries offer something for every beer lover.
While each brewery on this list has unique strengths and specialties, they all are committed to quality, innovation, and community. Whether you're looking for a laid-back spot to enjoy a beer with friends or a destination for a beer-themed outing, these breweries are sure to impress.
Overall, the craft beer culture in Atlanta is thriving, with new breweries constantly popping up. So whether you're a local or just passing through. Check out some of these top breweries for a taste of what the city offers and a beer garden. Cheers!