Knowing how long your IPA is good to ensure you get the best possible taste is important as a beer drinker. This piece will examine why beer has a shorter life span than other beverages, how to store it appropriately, and what happens when one imbibes expired beers.
Many craft beers have an expiration date on their packaging, but what does this mean? We'll dive into the science behind expiration dates and discuss whether they indicate when a beer is no longer safe to consume. Additionally, we'll explore how extended storage periods can create off-flavors in your favorite brews.
If you like to stock up on beer or keep it for extended periods, this article is your guide! We'll give tips on buying and storing your beers so they have a long shelf life without sacrificing flavor quality.
So grab yourself a cold one (that's not expired!) and get ready to learn everything there is to know about expired beer!
Table of Contents:
How Long Does IPA Beer Stay Fresh?
Freshness is an important factor in beer drinking. India Pale Ale (IPA) beers are no exception, and knowing how long they will stay fresh for optimal taste is essential. Variations in temperature, exposure to sunlight, and storage methods can all influence the shelf life of an IPA beer. For optimal freshness, adhering to certain storage techniques for your IPA is recommended.
Consuming Sooner Rather than Later:
The importance of freshness when it comes to IPAs cannot be overstated; if not consumed within the right timeframe, their flavor profile can suffer greatly due to oxidation or other factors. Generally speaking, canned/bottled-on dates matter more than expiration dates when assessing the quality of an IPA. The former indicates when the beer was packaged, while the latter only signifies when it should be consumed. If kept properly stored between 40°F-50°F (4°C-10°C), IPAs should remain enjoyable up until six months after the packaging date; however, many craft breweries suggest consuming them within two months for best results.
Keeping in Fridge:
Investing in a beer fridge or cellar is an essential step when preserving the freshness of IPA beers; this will help keep temperatures consistent and shield them from direct sunlight, which can have detrimental effects on their shelf life. Storing your brews in these optimal conditions will enable you to enjoy their peak flavor for longer.
Storing at the Proper Temperature:
Last but certainly not least is keeping your IPAs cold, which is one of the most effective ways to preserve their taste profile over time since heat accelerates aging processes significantly faster than colder temperatures. While this isn't always feasible depending on where you live or what kind of space you have available at home (not everyone has access to a dedicated "beer fridge"), simply avoiding leaving bottles exposed directly under bright lights indoors or outdoors should suffice if necessary.
IPA beer should be consumed within a reasonable timeframe to ensure the best flavor and quality. To understand that timeframe, it's important to look at factors that affect IPA shelf life.
Key Takeaway: Heat enhances maturing. Therefore IPAs should be kept cold in a beer fridge or cellar. Craft breweries recommend drinking an IPA within two months and prefer canned bottled-on dates over expiration dates.
The Importance of Freshness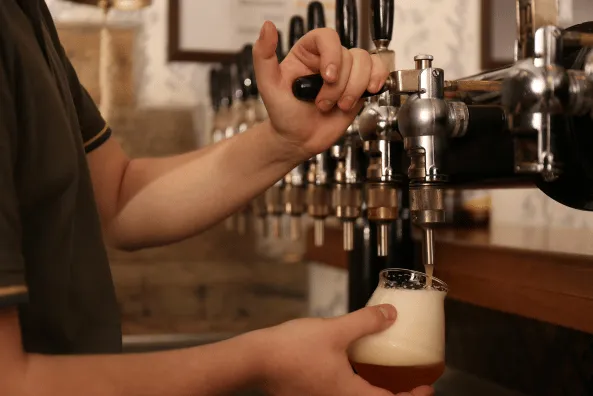 When it comes to IPAs, freshness is key. Drinking an IPA that has been stored or shipped improperly can lead to off-flavors and aromas, resulting in a beer that doesn't taste as intended. To ensure you get the best possible experience out of your beer, understanding why canned/bottled on dates matter and what timeframe is ideal for consuming an IPA are important considerations.
Beer can/bottle dates tell consumers about packaging. This date shows how long the brew has had hops, which changes its flavor. Air and light degrade hops quickly, reducing flavor and fragrance. So, suppose you consume an IPA within two months of the packaging date. You'll taste the most authentic hoppy bitterness, mitigated by citric fruitiness, malt sweetness, and body. If stored in cold, dark conditions, IPAs can be consumed six months after packing. Oxidation or degradation during storage may reduce hop flavor.
Ultimately, it is always good practice to check both canned/bottled dates and expiration dates before cracking open any beers to ensure that there have not been any unexpected changes during shipping or storage that could affect the quality adversely.
IPA beer can lose quality if stored improperly; freshness is crucial. To better understand how to maintain the quality and freshness of an IPA beer, let us explore other elements that can influence its shelf life.
Key Takeaway: Freshness is paramount for IPAs; for the best experience, consume within two months of packaging. Checking canned bottles on dates and expiration dates is essential to guarantee a top-notch taste sensation before enjoying your beer.
Factors That Affect IPA Shelf Life
Temperature:
Temperature fluctuations during shipping and storage can have a significant impact on the shelf life of an IPA. When temperatures drop, condensation forms inside cans or bottles, accelerating oxidation which causes off-flavors to develop. To maximize the shelf life of your IPA, it's wise to store it in a cool and dark environment. A beer freezer or cellar keeps IPAs fresh for long-term preservation.
Sunlight Exposure:
Sunlight exposure can also affect the flavor of an IPA due to hop degradation caused by UV rays. Leaving your beers out in direct sunlight may become skunky over time – not ideal. To avoid this problem, keep them stored away from windows and other sources of light when possible. If you're concerned about sun damage, check labels before buying because some breweries use dark glass or metal cans to preserve their brews.
Always store IPAs upright at room temperature until ready to drink for best results. Then, open and enjoy – this will ensure optimal flavor and maximum enjoyment each time you have a cold one with friends or by yourself.
Considering the multiple elements influencing IPA's shelf life, it is essential to undertake proactive measures to enhance its duration. By following recommended storage techniques, such as keeping beer cold and avoiding sunlight exposure, you can ensure your IPAs stay fresh for longer periods.
Key Takeaway: Store your IPA in a cool, dark place away from direct sunlight for maximum freshness and optimal flavor. For best results, serve it cold when you're ready to enjoy – cheers.
Recommended Storage Techniques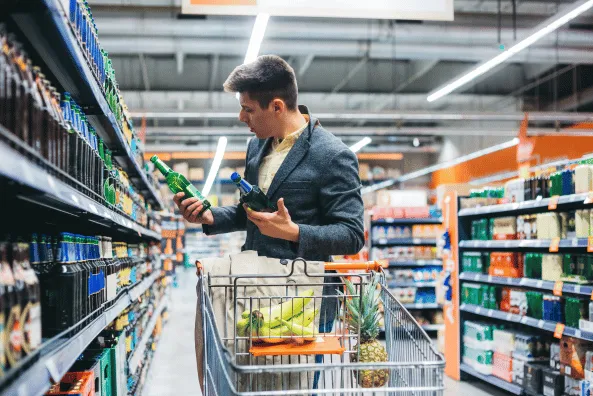 Proper storage is key when it comes to extending the life of your favorite IPAs. Keeping them cold helps slow down oxidation and maintain their carbonation levels. Storing your beer upright is essential for preserving its taste, as it stops the yeast from collecting at the bottom of the bottle and creating unpalatable notes. Investing in a beer fridge or cellar can help you drink fresh beer for longer.
Storing beer at a cool temperature helps slow oxidation and preserve its flavor, as well as prevents bacteria growth which can lead to early expiration. A cool temperature also prevents bacteria growth which can cause beers to expire before their expiration date. Craft beers such as IPAs tend to have shorter shelf life than other types, so storing them properly is especially important for beer drinkers who want maximum flavor from each sip.
It's not just the temperature you must worry about when storing craft beers. Sunlight exposure should also be avoided. Sunlight breaks down hop compounds in pale ales and creates skunky flavors that many find unpleasant. Plus, direct light will speed up the rate at which your brew goes bad. If buying bottled beers from a store with windows facing outside, ensure they're kept away from direct sunlight exposure by choosing ones on shelves further back or even opt for cans instead since they block out light better than glass bottles.
Key Takeaway: Cold and upright storage decreases oxidation and avoids off-flavors, extending IPA shelf life. Buying a beer fridge or cellar and avoiding direct sunlight helps keep your brews fresh.
FAQs in Relation to How Long is IPA Beer Good for
How long is IPA beer good for?
IPA beer is generally considered to be best enjoyed fresh. It can remain drinkable for up to three months after the bottling or canning date if stored correctly. Factors such as temperature and light exposure will affect its shelf life; therefore, storing IPA in a cool dark place is ideal. Additionally, carbonation levels may decrease over time if not stored properly, so consuming within two weeks of the opening is recommended for optimal flavor and enjoyment.
Can I drink a 2-year-old IPA?
It is generally not recommended to drink a 2-year-old IPA. Most IPAs have an optimal drinking window of 6 months or less, and the hop character will fade significantly after this time. After two years, oxidation may occur in some beers, which can cause off-flavors. One should exercise caution when consuming an IPA aged for two years as the quality may have deteriorated.
Can you drink a 3-year-old IPA?
It is generally not recommended to drink a 3-year-old IPA. The hop compounds that give IPAs their distinct flavor will have broken down over time, resulting in an unpleasant taste and aroma. Additionally, the beer may be prone to spoilage due to oxidation or bacterial contamination, which could make it unsafe for consumption. For optimal taste and safety, it is advised to drink IPAs within six months of brewing.
Do IPAs have an expiration date?
Yes, IPAs do have an expiration date. Generally speaking, IPAs are best consumed within 90 days of their production date for optimal taste and quality. After this period, the beer may lose its flavor profile or become more bitter than intended. To ensure freshness and avoid spoilage, it is important to check the packaging for a 'best before' date before purchase and consumption.
Conclusion
In conclusion, IPA beer can last a long time if stored properly. For optimal flavor, consuming IPA beer as soon as possible after purchase is essential. With proper storage techniques, such as keeping IPAs in cool temperatures away from direct sunlight and using products like growlers or airtight containers, you can ensure that your IPA beers remain fresh for an extended period. Following these tips, you can enjoy delicious IPAs for longer periods without worrying about how long ipa beer is good for.
Discover the perfect IPA beer and learn to store it correctly to stay fresh and flavorful. Get tips from our experts on all things related to craft beer, including reviews, equipment, subscription services, and brewing techniques!
Also Visit: Comparing Pale Ale vs Ale: History, Brewing Process, Taste & More