Non-alcoholic beverages are all the rage, with various brands clamoring for a market share.
With such high demand comes confusion, counterfeit products, and inflated prices. To safeguard yourself against these pitfalls, knowing where to buy non-alcoholic beer is critical.
Fortunately, we've created this guide to help you find where to buy non-alcoholic beer online and in stores. Specifically, we're going to explore:
Where To Buy Non-Alcoholic Beer Online
The Best Non-Alcoholic Beer Subscriptions
Where To Buy Non-Alcoholic Beer in Stores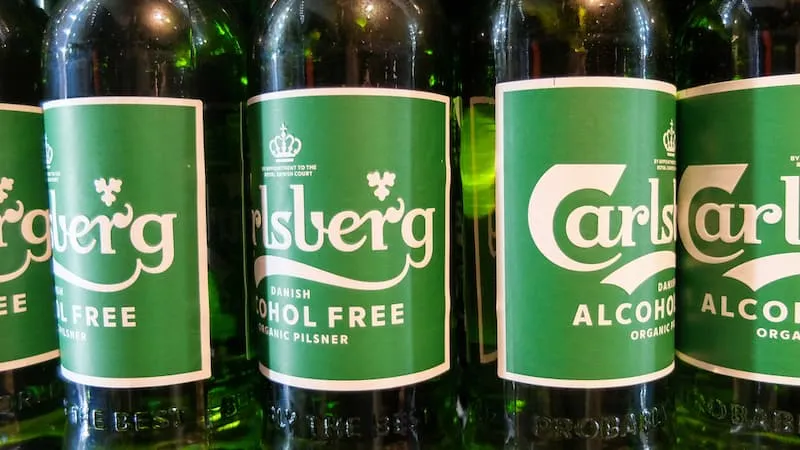 Why Buy Non-Alcoholic Beer?
In recent years, there has been a significant rise in the "sober curious" movement, with reports projecting a 31% increase in the global non-alcoholic beer market by 2024.
So, what's driving this trend?
You can still have fun without getting drunk
It's healthy as it lowers your risk of developing liver cirrhosis, promotes bone growth, and may even help you lose weight
Non-alcoholic beer taste just as good as regular beer, with a variety of flavors and aroma profiles
It's an effective strategy for people who want to drink less or stop drinking entirely
Non-alcoholic beers are often inexpensive when compared to their alcoholic counterparts
It helps you fit in in an otherwise booze-filled environment
---
Where To Buy Non-Alcoholic Beer Online
Where can I buy non-alcoholic beer? Not long ago, finding a non-alcoholic beer online was difficult, and the few retailers that offered them only had a limited selection.
However, with demand on the rise, more businesses are hopping onto the wagon, giving you many options.
Here are the top three places to buy non-alcoholic beer online.
Amazon
The e-commerce giant is a one-stop shop for everything from groceries to clothes, electronics, and home furnishings.
They stock all sorts of drinks, including non-alcoholic beer from big-name brands to local favorites. Plus, shipping is free if you're an Amazon Prime member, and there's unlimited two-day delivery on qualifying purchases.
With this service, you'll never run out of your favorite beverages again.
Total Wine & More
Don't let the name deceive you. Total Wine carries more than just wine. The store stocks an impressive selection of beers, including great non-alcoholic choices.
You can use the store locator feature on their website or call their toll-free number to find your nearest location. They also offer same-day delivery if you live in one of their designated areas.
Buy Directly From the Brewery
Purchasing your beer straight from the brewer remains the most reliable and trustworthy way to get your hands on non-alcoholic brews.
Most brewers have websites where they stock their products before distributing them to other stores. This ensures you get all the new releases.
Here are some breweries that sell non-alcoholic beers online:
The only downside to buying directly from the brewery is that you're limited to one brand or style.
---
Non-Alcoholic Beer Subscriptions
Here are the subscription options for non-alcoholic beer.
NA Beer Club
Na Beer Club is one of the most popular non-alcoholic beer subscription boxes in the United States, delivering a unique selection that you won't find at your local grocery store.
The club, founded in 2019, offers three subscription plans: three, six, and twelve months.
Every month, you'll receive new brews hand-picked by their industry experts. Members also get early access to new releases from some of the top breweries.
Better Rhodes Insider Non-Alcoholic Subscription
The online retailer takes pride in being North America's largest provider of alcohol-free beverages. It makes it easier and less expensive than ever to find your favorite drink.
Better Rhodes offers monthly subscriptions to a selection of premium non-alcoholic beverages hand-picked by its expert staff. You also get to receive gifts from their partner companies as a bonus.
Bravus Build Your Own Brew Box
Unlike the other subscription boxes on this list, Bravus allows members to customize their packs. You can select between 12 and 24 cans per box, depending on your needs.
Plus, you get 15% off every month's order and free shipment once you sign up. It could be the perfect fit if you want variety but don't want to break the bank.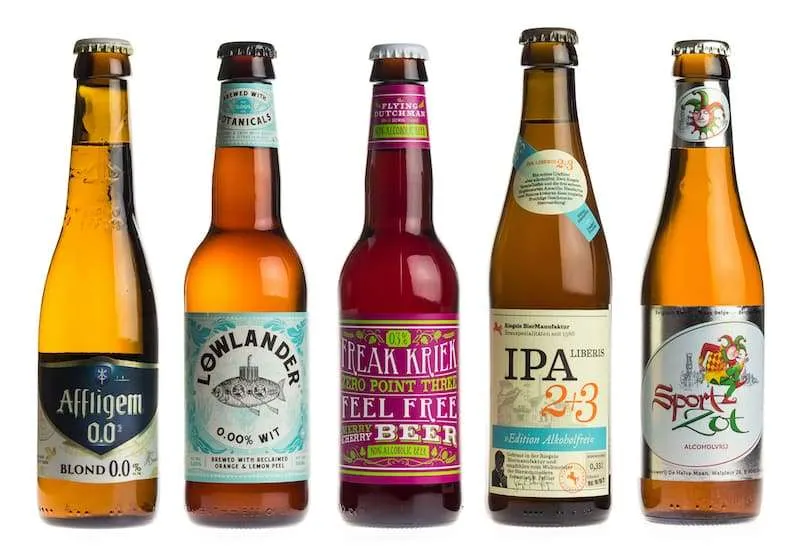 ---
Where To Buy Non-Alcoholic Beer in Stores
Here's a list of places where to buy non-alcoholic beer in stores.
Major Grocery Chains
Most major grocery stores, including Walmart, Kroger, Safeway, Target, and Whole Foods, offer a wide array of non-alcoholic beers.
You'll probably find the NA beer in the same aisle as regular beer or the liquor section near wine coolers. If that's not the case, please ask an attendant for assistance.
Off-Licenses/Liquor Stores
They range from small mom-and-pop stores to large chain retailers like Trader Joe's. Depending on where you live, your local off-license may have a wider selection than your local grocery store.
They're bound to have more options if you're looking for specialty non-alcoholic beers.
Breweries Stores
Some breweries may sell their line of non-alcoholic beverages at their retail outlets.
Many brewery tasting rooms will have limited bottled versions for purchase. You can check their website or call ahead to see what is currently available.
How Should You Evaluate Non-Alcoholic Beer When Buying It?
Here's how to choose the best non-alcoholic beer.
The Type of Beer You Want
Non-alcoholic beers come in various flavors, styles, ingredients, and price tags.
Think about what beer brand you prefer, how much money you want to spend, and what tastes best suit you. Check the nutritional information label to ensure that the content meets your dietary needs.
Read other customers' reviews to ensure you're getting the right beer for your needs.
The Beer's Taste
You want to ensure that you pick a brew with a flavor profile you enjoy. Some will be too sweet, others too bitter, and some may have a malt taste.
If this is your first time purchasing non-alcoholic beers, try sampling a few before placing an order. The only way to find out if you like a specific beer is to drink it.
The Beer's Price
Just like with regular beers, you want to ensure that you purchase a product within your budget. There are various non-alcoholic brands in the market, each with a different price tag.
Try to strike a balance between the product's quality, your preference, and its price. For instance, a cheap brand may mean sacrificing flavor or quality. Conversely, a more expensive brew might not necessarily be better than a cheaper option.
Many stores also offer discounts for multiple purchases of non-alcoholic beers, so look out for these deals when you're out shopping.
So, Where Can I Buy Non-Alcoholic Beer?
Finding non-alcoholic beers can be difficult, especially if you don't know where to look. The list above includes the best places to find these beverages online and in stores. However, availability may vary by location, so check with a store before making a purchase.
Frequently Asked Questions
Here are some quick answers to FAQs on where to buy non-alcoholic beer.
What are the best non-alcoholic beers?
What are the main features of the best non-alcoholic beers?
They don't have an unpleasant smell
The NA beers have a distinctive taste and don't leave an aftertaste in your mouth.
Clear and consistent color, whether it's light or dark non-alcoholic beer
What is the price of the best non-alcoholic beers?
Brooklyn Brewery Special Hoppy Amber: It's available for $6 for a six-pack on Drizly.
Clausthaler Original Non-Alcoholic: You can find this beer at Amazon for about $27.94 in a six-pack of cans or bottles.
Heineken Non-Alcoholic 0.0: You can also find this one on Amazon for around $25 in a six-pack of 11-ounce bottles.
BrewDog Hazy AF: This beverage is available for $29.99 per twelve-pack of 12 oz cans on Amazon.
Bravus Oatmeal Dark: It comes in a six-pack of 12 oz cans and sells for $45.99 on Amazon.
What are the best non-alcoholic beers for people trying to save money?
Penn's Best Non-Alcoholic Beer: You can distinguish it by its light golden color, light malt flavor, and a hint of sweetness. At only $2.99 for a six-pack, this is worth a try.
Coors Edge Non-Alcoholic Beer: If you're not too picky with your tastes,  this could work for a tight budget.
Busch Non-Alcoholic Beer: Although it is one of the cheapest beers on the market, costing less than a dollar per can, most drinkers think it is terrible.
Labatt Blue Non-Alcoholic Beer: This is one of the best-tasting non-alcoholic beers available at only $10.99 for a twelve-pack.