Are you in the market for a new beer growler? Then you've come to the right article.
Choosing the right pressurized growler can take time, as finding the right balance between functionality and design overwhelms the many options. Fortunately, this guide has been crafted to help you sort through the best pressurized growlers on the marker.
Continue reading below to learn more about the best pressurized growlers and find the best for your brewing needs.
What Is a Pressurized Growler?
A beer growler is a bottle that stores and transports your beer to places. Beer growlers are pressurized containers made with pressure-sensitive technology to help keep their contents fresh.
Pressurized beer growlers can be made from many materials, including stainless steel, glass, ceramic, and plastic. Growlers also come in different shapes, ranging from a keg to more of a water bottle cylinder.
Different pressurized growlers will have additional advantages based on their shape and material. As such, you should choose a growler with the most functionality without sacrificing aesthetics. 
---
Top 5 Best Pressurized Growlers
Now that you understand a growler's intricacies, we can finally look at the best beer growlers on the market. Whether you value size, insulation, or aesthetics, we will tell you what you need to know about the best pressurized growlers on the market.
Continue reading below to find the best beer growler for your needs.
1. TMCRAFT Pressurized Mini Keg
The TMCRAFT Pressurized Mini Keg is among the best 64-ounce stainless steel CO2 growlers.
This pressurized growler is made of high-quality food-grade 304 stainless steel. This high-quality material will keep your beer tasting fresh for extended storage periods. The optional CO2 cartridge add-on system will also help regulate the perfect carbonation supply into your brew.
Another benefit of this growler is its pressure regulator. Consumers can monitor this growler's PSI levels by fine-tuning the pressure gauge knob to control beer low. Then, simply twist the adjustment knob to change what level the brew will be kept at.
Lastly, this growler is nice because it includes a one-year warranty upon purchase. While this is a high-quality product, knowing that you are protected should things go wrong can be comforting.
Pros
High-quality food-grade stainless steel
Optional CO2 cartridge add-on system
Pressure regulator with an adjustable knob
Includes a one-year warranty
Cons
Potentially expensive compared to non-pressurized growlers.
---
2. GrowlerWerks uKeg Pressurized Growler
The GrowlerWerks uKeg Pressurized Growler is a larger stainless steel growler that can hold up to 128 ounces at maximum capacity. This is likely the best growler for beer.
Being that this is a large stainless steel container, this model is relatively heavy and weighs 4.75 pounds. However, the upside to this large size and material is that it is incredibly durable and will last longer if maintained properly.
One advantage to this particular model is that it uses a VPR cap. This pressure cap allows for automatic regulation of the content's carbonation level. It will enable the pressure to manage itself without your worrying.
Another feature of this growler is its lock. The container offers a locking cap to prevent accidental dispense or leakage, making for more accessible transportation and handling. The double-walled exterior amplifies this ease, as it will help keep your contents safe and cool for longer.
The last advantage of this model is its customizability. The tap handle on this growler is in a standardized size so that it can be removed and switched out as desired. This means that you can choose whatever style best fits your aesthetic.
Pros
Durable and long-lasting
VPR cap for automatic carbonation regulation
Locking lid for prevention of leakage
Customizable tap handle for personalization
Cons
Relatively heavy at 4.75 pounds
The maximum capacity may be too large for some users.
---
3. 5L Craft Beer Tower
The Spotted Dog Company 5L Craft Beer Tower is reliable for pressurized growlers. The Spotted Dog Company is the name brand for modern growler manufacturers. The 5L Craft Beer Tower is their best pressurized growler model.
This beer tower is a sizeable 5-liter container that measures over 17 inches tall and weighs just over 6.5 pounds. Alongside the size, this model is an upgrade from its predecessor due to its clean, stainless steel exterior. Many beer lovers agree that the clean design is part of the charm of this growler option.
Due to its appealing design and large size, this growler makes for a terrific display piece. Many guests will ask why you have such a large growler. In addition, it makes for a great conversation starter on any counter.
Another great selling point of this model is the keg sleeve included in the package. This sleeve will add insulation to your growler to keep it cool for extended periods. You can remove this, as it can be nice to save bulk when I know I will drink the brew reasonably quickly.
Lastly, this model is compatible with replaceable CO2 cartridges. While this might not be necessary for some, many enthusiasts want to go the full mile and appreciate the added option.
Pros
Reliable pressurized growler
Clean, stainless steel exterior design
Terrific display piece
Compatible with replaceable CO2 cartridges
Cons
Heavy and bulky (6.5 pounds and over 17 inches tall)
Keg sleeve may not be necessary for all users
---
4. BACOENG Pressurized Keg Growler
One significant advantage to the BACOENG Pressurized Keg Growler is that it is much lighter than other options on today's list. This model is lightweight, coming in at only 5 pounds while still holding 3.6 liters at max. In addition, the BACOENG is among the best-insulated growlers on the market.
The first advantageous feature of this model is that it offers a terrific CO2 tap system. This system ensures that your growler delivers a smooth poor and reduces the chance of spilling.
Another great feature of this model is the food-grade hose included alongside it. This hose can be used to funnel your beer into other containers with ease. A traveling cup can also be attached to the growler for an easy sampler.
A third advantage comes in the form of the manual. Not all growlers come with maintenance instructions, but this model boasts an in-depth guide in the base package. While this might not be necessary after reading today's guide, it can be helpful to have the information on hand and accessible.
Lastly, the BACOENG is easy to clean and keep in shape. There are no awkward spots that are hard to reach or surfaces you must be especially careful with when handlinghanding.
Pros
Lightweight and well-insulated
The terrific CO2 tap system
Food-grade hose included
In-depth manual for maintenance
Cons
Not suitable for large gatherings
Limited capacity (3.6 liters)
---
5. TrailKeg Half Gallon Stainless Steel Growler
Lastly, we have the TrailKeg Half Gallon Stainless Steel Growler. This model is for you if you are looking for a growler that emphasizes aesthetics and class.
This all-black growler is as fancy as it is efficient. Its 5.2-pound exterior can fit up to 64 ounces of liquid inside for storage. The 11.75-inch height is built perfectly to fit into 1-foot tall refrigerator compartments.
You've come to the right place if you want an insulated growler with a double-walled exterior. The TrailKeg is vacuumed out and great for beer that needs to stay cool for an extended period.
This model even includes a handle, which is surprisingly rare for such a typical means of brew transportation. The handle makes it much easier to carry your beer inside this growler.
Overall, the TrailKeg is an excellent option for those looking to keep their homemade beer in a durable, sturdy container that keeps it cool.
Pros
Aesthetically pleasing and classy design
Insulated with double-walled exterior
Fits into 1-foot tall refrigerator compartments
Includes a handle for easy carrying
Cons
Capacity limited to 64 ounces
Relatively heavy at 5.2 pounds.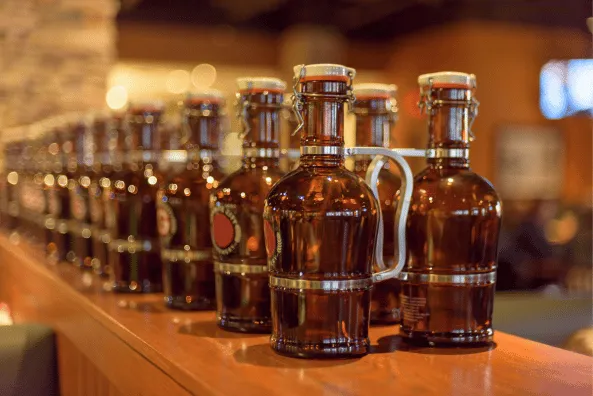 ---
What Are the Benefits of Using a Pressurized Growler
Now that you understand what a pressurized growler is, you might wonder why you need one. Below are some reasons why beer artisans enjoy using pressurized growlers.
1. Keeps Beer Fresh and Cools Faster
One of the many advantages of using a growler over other containers is the cooling time. A growler is heavily insulated and designed to keep the cold air in. This allows your beer to stay cool and fresh throughout the day.
2. Portable and Convenient to Use
Pressurized growlers make for great transporters since they are airtight and allow your brew a consistent quality. 
If you like to bring your brew between locations, a growler is a very convenient tool to have on hand.
Another avenue of convenience comes from brewery-bought beer. If you like purchasing your drink directly from the brewery, a growler is an excellent means of transporting it home. Growlers allow you to take your drink on the go without the risk of spilling or losing quality.
3. Allows Beer Lovers to Experience Different Craft Beers
Homebrewing craft beers have been trendy and rising for the last few decades. Many individuals find that creating their craft beer allows for a taste unique to their preferences.
A growler is a tool if you enjoy brewing your flavor at home. Growlers make the process of storing and sharing a fresh batch much simpler. However, without a growler, one must take on the lengthy endeavor of bottling beer in individual containers.
Using a growler as storage will save you time and make the process more enjoyable and easy to share. Pack your growler rather than decide how many bottles to bring; you will always have beer ready to share. Extra convenience is added if you do any sort of bartending.
When a beer keg gets low, you must tap into a new barrel to access more beer of the same brew. The beer left at the bottom of a keg is inaccessible to a tap because it is too far down. Placing this excess beer into a growler not only keeps it fresh but it gives your guests something to drink while you take the time to tap a new keg.
4. Improved Carbonation and Pressure Control
Pressurized growlers boast the unique advantage of regulating your drink's carbonation level. Keeping the amount of carbon consistent allows homebrew enthusiasts to keep their beer tasting fresh and their guests happy.
5. Better Protection Against Sunlight and Contaminants
While growlers can be crafted from a few different materials, many are made from stainless steel. Because of this, growlers offer a unique protection against sunlight over traditional glass bottles.
Alongside material, growlers also protect your brew from outside contaminants. Foreign contaminants have a hard time penetrating the airtight container of a growler, so your brew stays cleaner and purer.
6. Saving Money Compared to Bottled Beer
Last but not least, using a growler will save you money. While a growler may have a higher upfront cost, the investment will save you money in the long run.
Buying a plethora of bottles is costly. Brewers can save time and money by bottling each drink by using a refillable dispenser like a pressurized growler.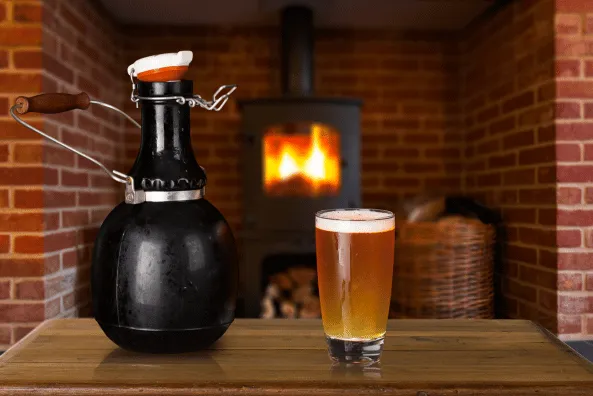 ---
How to Choose the Right Pressurized Growler for You?
To determine the optimal growler, there are a few steps to consider. 
Step 1: Choose the Type of Growler
As mentioned before, pressurized growlers are made from several different materials. 
There is no one size fits all type of growler, so you will want to weigh each option's pros and cons based on your preferences.
Stainless Steel 
Stainless steel growlers are the most cost-effective option on the market. In addition, stainless steel is highly durable, so your growler is less likely to take a lot of wear and tear over time.
On top of durability, stainless steel growlers help keep your drink cold longer. The material is excellent for insulation and prevents warm air from penetrating your drink as quickly. 
The major downside to this option is transparency. Stainless steel growlers are opaque, meaning seeing how much is left inside can be challenging. In addition, this lack of visibility can make filling the growler up more difficult.
Glass
Glass is the most popular material to make growlers out of. Glass is transparent, meaning that the container is easy to fill and track while in use. 
While seeing your brew is excellent, glass growlers have a few problems.
The first issue with using a glass container is that it is susceptible to heat. Glass growlers will heat up quickly if exposed to direct sunlight or any type of UV ray. This makes these growlers a lousy choice for outdoor parties.
Another disadvantage to a glass growler is its durability. A glass container will break upon one slip-up, which may be expected while beer is involved.
Plastic
The most significant advantage of using a plastic growler is that they are light. While lifting a drink won't tear your arm off, raising a heavy container throughout the evening can be inconvenient. 
Plastic growlers, however, offer the least classy design for your brew. These growlers are typically fundamental and practical, making for less exciting encounters.
Ceramic
Last but not least, there are ceramic growlers. Purchasing a ceramic growler is nice because it offers the widest variety of aesthetics. Ceramics allows for the most versatility in shape and design, so those who want a more personalized item will find the correct container under this material.
Ceramic may be pretty, but it does come at a cost. Ceramic growlers are prone to damage and can easily be broken if handled poorly.
On top of frailty, the best growlers made of glass are heavy and can be challenging to carry around for long periods.
Overall, ceramic growlers should be kept in infrequent use. It is best to save a ceramic growler for a special occasion rather than for nightly outings.
Step 2: Make Sure That the Growler Has a Faucet That Allows You to Completely Fill It
Not all growlers allow you to fill them up all the way. Therefore, it is important not to assume that a growler can hold its full size just because it is that large.
You will want to invest in a growler with a lovely faucet that allows you to fill it with your drink.
Step 3: Look for a Pressure Regulator Attached to the Faucet
Pressurized growlers come in a few different designs, and it is essential to consider where the pressure regulator is attached. Choosing a growler with a pressure regulator attached to the faucet will allow you to track the pressure of your brew best, accurately, and conveniently.
Step 4: Check Out Reviews for Previous Buyers
We've all had a less-than-desirable outcome from an online transaction.
Fortunately, the modern era seeks to offset this trend of catfishing by offering transparency in the form of online reviews. So if you want to buy a pressurized growler not already recommended by our list today, you should review customer reviews.
Any good product will be riddled with reviews giving it the credit it has earned.
Step 5: Make Sure That the Growler Is Compatible With Your Favorite Beer Styles
It is essential to consider what type of drink you will be placing in your growler.
Different beer styles are best kept in various growlers, so you should purchase one compatible with your favorite brews.
Step 6: Find Out if There Are Any Additional Perks or Discounts Available
Everybody loves saving money.
If you find out that a particular brand of the pressurized growler is having a sale or discount, consider that option to save yourself some cash.
Certain brands may offer certain perks when you buy your growler under specific conditions.
FAQs
While we have covered a lot of information above, you may still have some questions that need to be answered. Here are the most frequently asked questions regarding growlers and their uses.
What are the advantages of using a pressurized growler?
Using a pressurized beer growler has a significant advantage: it keeps beer fresh and ready to drink for up to a week, which refrigeration can extend. 
Once opened, the brew stays fresh for about three days. While growlers aren't designed for heat retention, they can hold hot drinks. Plus, they keep their contents at a consistent temperature, so if they're good at keeping things cold, they'll do the same for warm drinks.
What is the difference between a mini keg and a growler?
Mini kegs and growlers are similar in that they are both built to store your beer. 
Growlers are portable containers that can be reopened repeatedly across different periods without going flat. Mini kegs, however, are slightly larger and offer 1.75 gallons of storage.
What are the different sizes of growlers available?
Growlers come in two different standardized sizes. Full-size growlers hold up to 64 ounces of liquid, while half-sized ones can hold 32 ounces.
What is the best material for a growler?
There is no one size fits all type of growler, so you will want to weigh each option's pros and cons based on your preferences.
Stainless steel growlers are easier to clean and can be left in the sun, but ceramic and glass growlers often come in more unique shapes.
How do you clean and maintain a growler?
To clean your growler, start by rinsing it off immediately after use to prevent contents from sticking. 
When ready to fully clean it, use a detergent or sanitizer that isn't oil or fat-based to avoid residue contamination. Using a brush, preferably carbon-based, is recommended to clean the interior without damaging the material. 
After cleaning, air-dry the growler instead of using a towel to avoid any unwanted fibers or residue inside. These steps will help ensure a clean, contaminant-free container for your next brew.