In today's world, non-alcoholic beers and cocktails are on the rise. In 2021, 58% of people were drinking more non-alcoholic and low-alcoholic drinks globally than in previous years. 
With so many people exploring sobriety and limiting alcohol consumption, non-alcoholic beers have become increasingly popular. These drinks contain only trace amounts of alcohol – less than .5% alcohol by volume.
These non-alcoholic drinks taste great, provide health benefits, and allow you to enjoy the taste of beer without any of the effects. And now, you can even have these beers delivered straight to your door with a non-alcoholic beer subscription service. 
Here are five of the best non-alcoholic beer subscriptions:
Better Rhodes Insider Monthly Beer Box
Bravus Build Your Own Non-Alcoholic Beer Box
BrewDog Non-Alcoholic Beer Club
Athletic Brewing Company Athletic Club
Surreal Brewing Company Non-Alcoholic Beer Subscriptions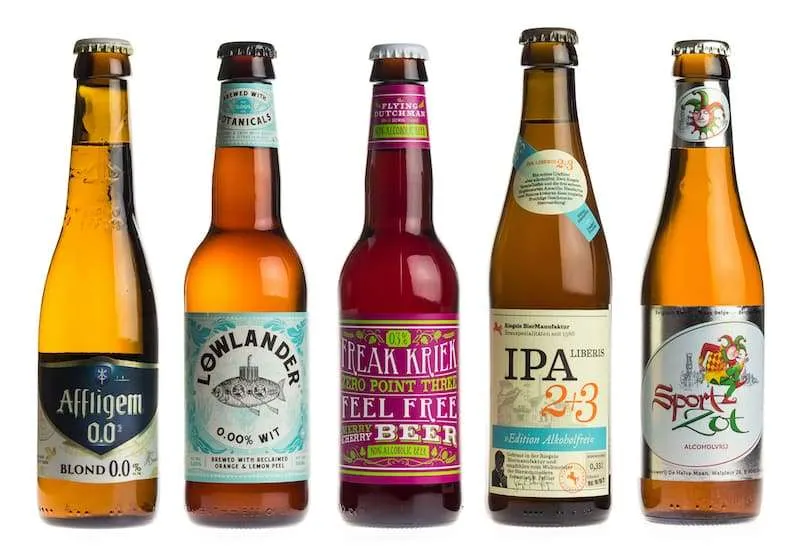 Why You Should Try a Non-Alcoholic Beer Subscription
While popular beer brands often line the shelves of liquor stores and grocery stores, it's less common to find a large collection of non-alcoholic beers. 
With non-alcoholic beer club subscriptions, you can discover new brands of non-alcoholic beers that perfectly fit your preferences. These boxes deliver new non-alcoholic beers to your doorstep on a schedule so you can enjoy new tastes and flavors with every subscription box. 
There are so many reasons to consider trying a non-alcoholic beer subscription. Along with tasting delicious, non-alcoholic beer has a huge range of benefits. Compared to other beers, non-alcoholic beers:
Help you limit your alcohol intake
Have fewer calories 
Offer various health benefits
Keep you more hydrated
Allow you to continue to drink socially without getting drunk
Whether you're trying to get sober or are just looking for an alcohol-free alternative for nights out, these subscriptions are the perfect way to find your new favorite non-alcoholic beer.
The Best Non-Alcoholic Beer Subscription Services
Here's your guide to some of the best non-alcoholic beer subscriptions.
Better Rhodes is home to a huge variety of non-alcoholic beer options that can be delivered right to your door every month. All their beers are made with high-quality ingredients and have less than .5% ABV. 
When you sign up for this insider non-alcoholic beer club, you'll receive a box of six different non-alcoholic beers from brands around the world. The club starts at $24.99/month, including shipping, making it one of the most affordable non-alcoholic beer clubs. And with a 100% satisfaction guarantee, you can purchase this subscription stress-free. 
You can choose between a 6-pack or 12-pack with two of each beer. Subscriptions are open-ended, with auto-delivery at either 30 or 60-day intervals. 
Because the subscription package is ongoing, you aren't able to select a specific amount of months unless purchasing as a gift. However, members can cancel at any time with little hassle, so the monthly subscription is easy to manage.
While there are limited customization options, the wide variety of non-alcoholic beer in each delivery guarantees that you'll be able to find something you like. With a huge range of dark beers, light beers, IPAs, and more, there truly is something for everyone to enjoy. 
If you're looking for plenty of customization options, the Bravus Build Your Own Box is the perfect non-alcoholic beer of the month club for you. As North America's first non-alcoholic craft brewery, Bravus offers an impressive range of non-alcoholic craft beers, with the ability to choose different six-packs to receive each month. 
The biggest benefit of this subscription service is that you can truly make it your own. You can customize a 12-pack with two different 6-packs or a 24-pack with four different 6-packs. Some of their popular 6-pack options include:
Blood Orange IPA
Peanut Butter Dark
Raspberry Gose
Coconut Porter
A one-time purchase starts at $26.99, but for 15% off, you can subscribe for shipments on a recurring schedule. Boxes ship every 7, 15, 30, or 60 days and can be easily canceled at any time. At $22.94/month, the Bravus monthly subscription is extremely affordable and even includes free shipping for every 24-pack. 
One drawback is that the six-pack options don't allow you to mix-and-match beers. But with so many flavors and types of non-alcoholic beer available, it's simple to find a six-pack choice that you'll love.
BrewDog's non-alcoholic beers taste delicious. This company also boasts a sustainability-focused approach, with high-quality malted barley and hops from around the world. With their sustainable, non-alcoholic beer club, you'll receive four six-packs with unique tastes and styles every other month. 
BrewDog works with breweries around the world to send you the most unique and tasty non-alcoholic beers in every subscription box. These include fruited sours, IPAs, seasonal beers, and more. 
This bi-monthly subscription starts at $49.98 for 24 cans and includes free shipping. With your first purchase, you'll also receive an extra $10 off of your first box. BrewDog also runs several special offers throughout the year, including additional discounts and free glassware. 
There are some downsides of this subscription service, including the less frequent schedule and higher price than similar services. However, if you're looking for unique tasting non-alcoholic beer from an environmentally-conscious company, you can't go wrong with BrewDog. 
Athletic Brewing Company is dedicated to creating great-tasting non-alcoholic beer, all while having a positive impact on the community. When you subscribe to their Athletic Club subscription service, you'll be able to try award-winning beer while supporting the restoration of local land and trails. 
This option is perfect for anyone looking for a customizable subscription service. You can select from various brews and drinks, including:
IPAs
Lagers
Dark beer 
Light beer
There are even several flavors of sparkling water you can add to your subscription box. All their beers are also vegan-friendly.
You can also customize the size of your order, ranging from two to five 6-packs, as well as delivery and frequency. Two 6-packs start at around $26/month, with options for more savings as you increase the number of beers. 
Athletic Brewing Company offers free shipping, as well as access to free merchandise and new non-alcoholic beer options. This service is one of the most flexible subscription boxes, with options to skip deliveries, edit frequency, or cancel at any time. 
This brand does have less collaboration with other breweries, so members are limited to the beers available from Athletic Brewing. But with so many styles and flavor profiles available for purchase, every member can find plenty of options that suit their taste. 
Since it was founded in 2018, Surreal Brewing Company has produced an abundance of natural, low-calorie, and delicious non-alcoholic beers. With their non-alcoholic beer subscription, you can receive a 12-pack or 24-pack delivered right to your door. 
The 12-packs start at $25.98/month, while the 24-pack options are $51.96/month. You can choose between mixed styles, various IPAs, or just a pack of your favorite Surreal Brewing Beer. And no matter the subscription plan, you can enjoy free shipping. 
The brewery doesn't have a huge range of beer styles to choose from. However, you can find great options on their website, including the refreshing Milkshake IPA, the low-calorie 17-Mile Porter, or the gluten-reduced Chandelier Red IPA. 
There's also not a ton of flexibility or customization with this subscription, particularly when it comes to delivery frequency. All subscription boxes are delivered to your door monthly. 
---
How To Pick the Right Non-Alcoholic Beer Subscription for You
All these non-alcoholic beer subscriptions offer unique tasting options, customizable packages, and a fantastic assortment of beers to choose from. So how do you know which one is right for you?
Before making your decision, look at some of the main features of each subscription, including:
Price
Frequency
Customization options
While some only offer monthly subscriptions, others can be personalized to fit your schedule. If you're not sure what style of beer is your favorite, services with a variety pack, such as Better Rhodes or Surreal Brewing Company, might be the best option for you.
Frequently Asked Questions
Have some more questions about non-alcoholic beer subscriptions? Check out the answers below.
What's the difference between non-alcoholic beer and alcoholic beer?
The main difference between these two beverages is the amount of alcohol. Alcoholic beers generally have over 1.15% ABV, while non-alcoholic beers have 0-.5% ABV. This percentage means that you can't get drunk off of non-alcoholic beer.
Non-alcoholic beers also offer several health benefits, including better hydration, improved sleep, and improved circulation.
Which non-alcoholic beer subscription service is best?
The five subscriptions listed above are some of the best non-alcoholic beer clubs you can join. However, if you're looking for a specific feature, every option has something unique to offer. 
While Better Rhodes is one of the best overall options, Bravus offers some of the best customizable subscription boxes. But whether you're looking for non-alcoholic beer subscriptions for yourself or a gift, you're guaranteed to love any of these subscription boxes.