Welcome to Clearwater, Florida's vibrant craft beer scene, where a perfect blend of Sun, sand, and sensational brews awaits. With an abundance of exceptional breweries, Clearwater has established itself as a haven for beer enthusiasts from near and far. This article will delve into the top 10 breweries in Clearwater Florida. These offer a comprehensive guide to the finest establishments that captivate your taste buds.
Our research is based on an extensive exploration of online beer communities, local beer enthusiasts, and expert reviews. This ensures our recommendations are grounded in expertise and passion. One interesting finding about one of the breweries on our list is its unique use of local ingredients in its beers, giving it a truly Florida flavor. So come along with us as we dive deep into the best breweries in Clearwater, Florida.
Here are the top 10 breweries in Clearwater Florida.
Dunedin Brewery
Clearwater Brewing Company
7venth Sun Brewing Company
Arkane Aleworks
Cueni Brewing Co.
Soggy Bottom Brewing
Southern Light Brewing
Woodwright Brewing Company
Grindhaus Brew Lab
Olde Florida Brewing Company
The Top 10 Breweries in Clearwater Florida
Here are the best breweries in Clearwater, Florida.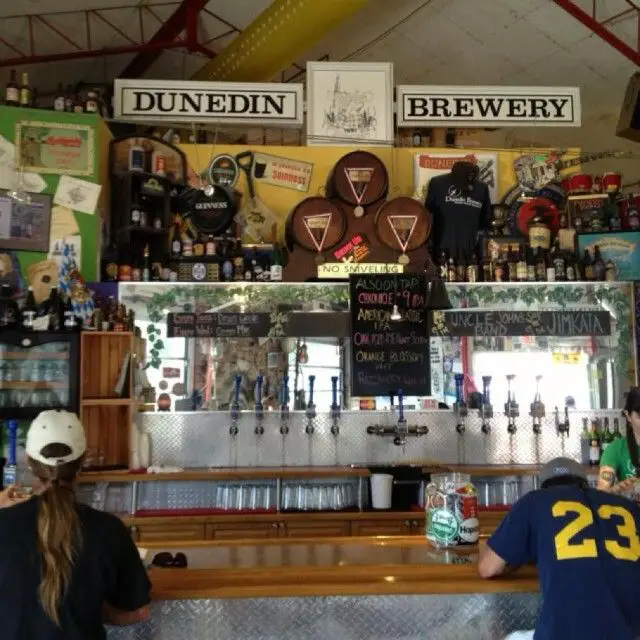 Image Source: Dunedin Brewery
Dunedin Brewery is a beloved brewery downtown Dunedin, just a short drive from Clearwater. Established in 1996, it is the oldest microbrewery in Florida, and it's a favorite spot for locals and visitors alike.
Dunedin Brewery's notable beers include its Apricot Peach Ale, Red Headed Step Child Irish Ale, and its famous Leonard Croon's Old Mean Stout. They also have a great selection of seasonal beers like Pumpkin Ale and Winter Warmer.
Over the years, Dunedin Brewery has won numerous beer awards and has received recognition for its excellent brews.
Also Read: Lager vs Amber: What's the Difference? The Ultimate Guide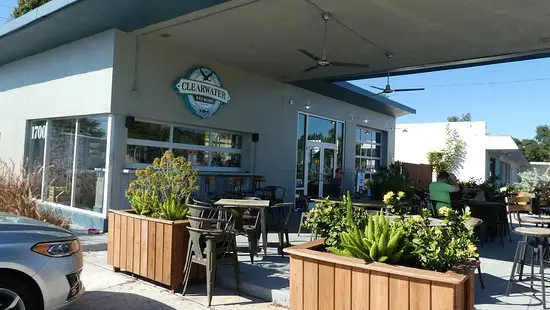 Image Source: Clearwater Brewing Company
Clearwater Brewing Company is a brewery and taproom located in the heart of Clearwater. Established in 2017, it has quickly gained popularity for its creative beers and welcoming atmosphere.
Clearwater Brewing Company's mission is to create unique and delicious craft beers using only the best ingredients. As a result, they have a wide range of beers on tap, from hoppy IPAs to sour beers and everything in between. Their notable beers include the Tropical Heat Hazy IPA, the Tower Light Lager, and the Blood Orange Wheat.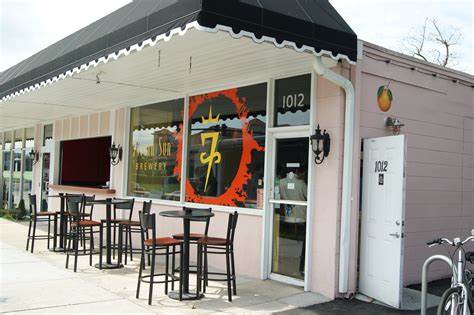 Image Source: 7venth Sun Brewing Company
With locations in Dunedin and Tampa, 7venth Sun Brewing Company has garnered a devoted following for its innovative, boundary-pushing beers. Known for their barrel-aged and sour beers, they experiment with unique flavor combinations.
Their Mangrove Double IPA is a standout offering, showcasing tropical fruit notes, and a balanced hop profile. As a result, 7venth Sun has received widespread acclaim, including being named one of the Best Breweries in Florida by Thrillist and winning multiple medals at the Best Florida Beer Competition.
Also Read: Ingredients In Non-Alcoholic Beer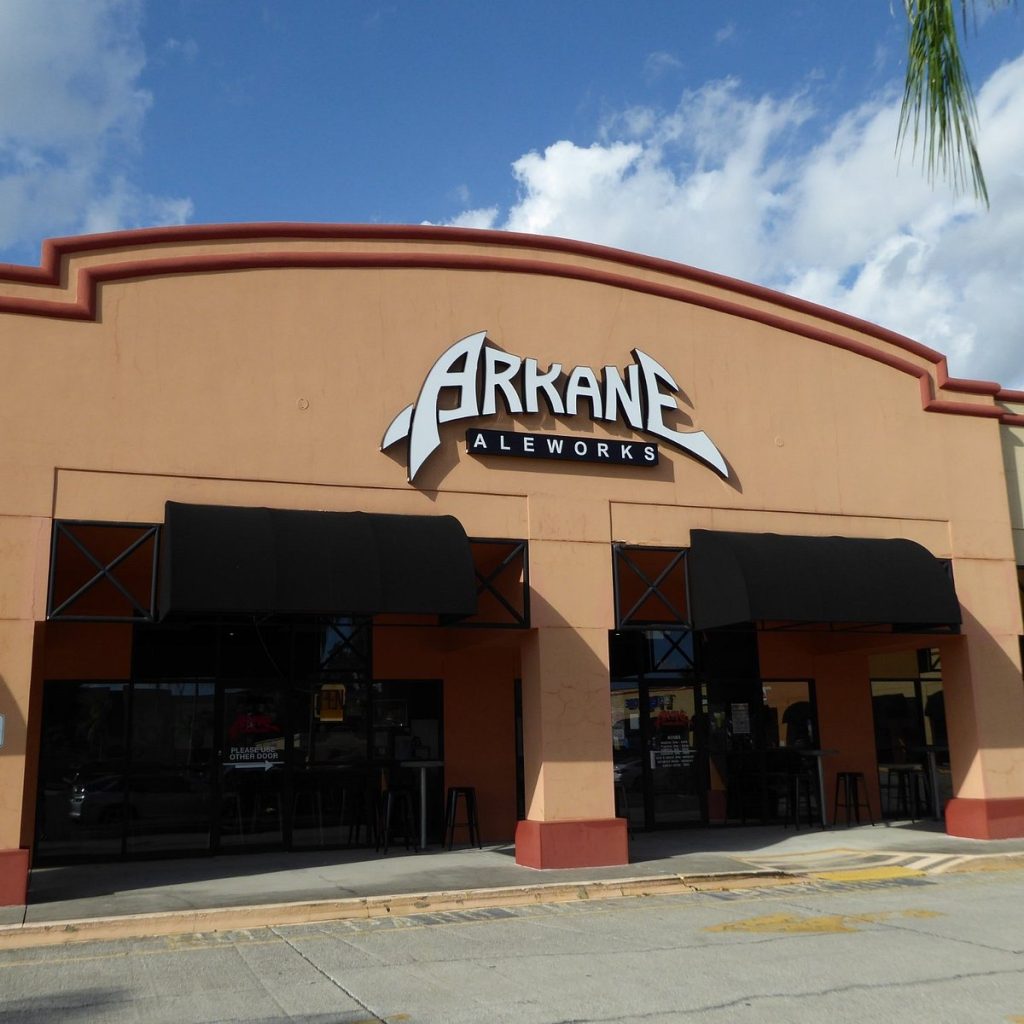 Image Source: Arkane Aleworks
Arkane Aleworks is a small craft brewery in Largo, just a short drive from Clearwater. It is a destination for beer enthusiasts seeking bold and adventurous brews. Founded in 2016, this brewery is known for pushing the boundaries of traditional styles and experimenting with unconventional ingredients.
Their creativity is evident in beers like the Saison Bernice, a farmhouse ale with subtle citrus and spice flavors. Arkane Aleworks has earned recognition for its exceptional beers, including medals at the Best Florida Beer Competition and a spot on the "Best New Brewer" list by RateBeer.com.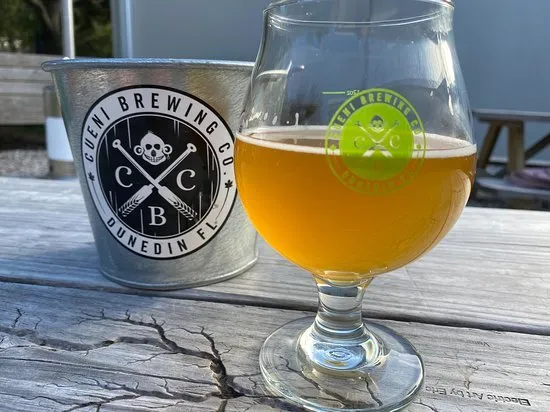 Image Source: Cueni Brewing Co
Cueni Brewing Co. offers a warm and welcoming atmosphere alongside its handcrafted beers.
This family-owned brewery takes pride in producing high-quality, small-batch brews. Notable beers include the Dunedin Orange Wheat, a refreshing wheat beer infused with locally sourced oranges.
Cueni Brewing Co. has received praise for its dedication to brewing balanced and approachable beers that cater to a wide range of tastes.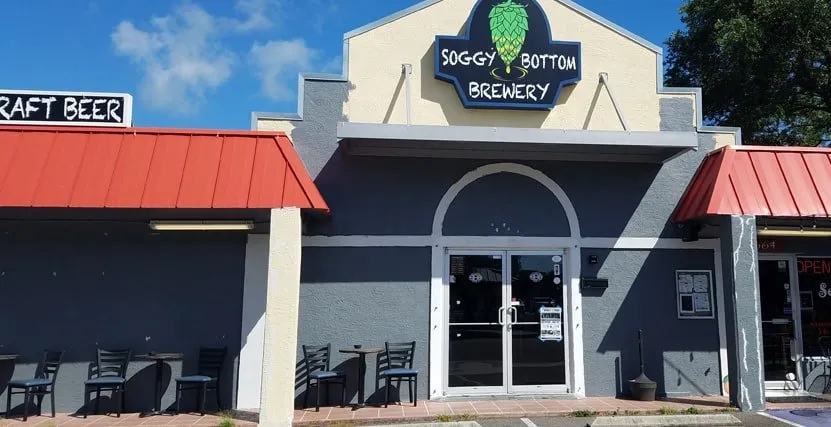 Image Source: Soggy Bottom Brewing
Soggy Bottom Brewing, located in Dunedin, just a short drive from Clearwater, was founded in 2013 by friends who shared a passion for brewing and the outdoors.
One of Soggy Bottom Brewing's most popular beers is the Happy Pils, a classic German-style Pilsner with a crisp and refreshing taste. Other notable offerings include the Hop & Go Naked, an American-style IPA with a bold and hoppy flavor, and the Cinnamon Toast Crunch Porter, a unique brew inspired by the popular breakfast cereal.
Despite its relatively short history, Soggy Bottom Brewing has gained a loyal following and has received numerous awards and recognitions. Enjoying a can of beer from their indoor and outdoor seating is fun.
Also Read: The Best Nutmeg Beer: Top 10
Image Source: Southern Light Brewing
Southern Lights Brewing Company is a family-owned and operated brewery in Clearwater, Florida's heart. It was founded in 2016 by Jeff Huffman, a homebrewer passionate about crafting high-quality beer.
From classic styles to experimental brews, they cater to various tastes. Notable beers include the Clearwater Beach Blonde Ale, a light and crisp brew that pays homage to the city's coastal charm.
Southern Light Brewing has been praised for its commitment to quality and inviting taproom atmosphere.
Image Source: Woodwright Brewing Company
Woodwright Brewing Company combines the art of woodworking with the craft of brewing to create unique and flavorful beers. Established in 2018, Woodwright Brewing Company offers a rotating selection of beers that showcase their creativity and dedication.
Visitors can enjoy a variety of styles, from hop-forward IPAs to rich and malty ales. A notable beer to try is their Barrel-Aged Chocolate Hazelnut Stout. This boasts a decadent blend of chocolate and nutty flavors with hints of oak from aging.
Woodwright Brewing Company's commitment to quality has earned them a loyal following in Clearwater.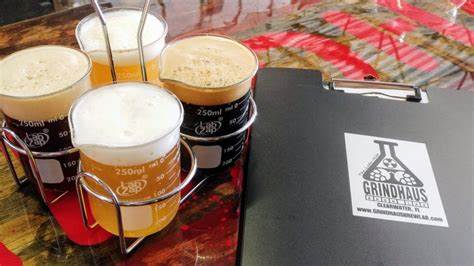 Image Source: Grindhaus Brew Lab
Grindhaus Brew Lab is a hidden gem for beer enthusiasts seeking a unique and experimental experience. This nano-brewery prides itself on its constantly changing lineup of innovative brews.
One of the most notable aspects of Grindhaus Brew Lab is its wide range of beers on tap. They offer diverse styles, including sour beers, IPAs, stouts, and more. Some of their most popular beers include the "Gulf Coast Gose," a tart and refreshing beer brewed with salt and coriander, and the "Cold Brew Coffee Stout," a dark and rich beer infused with locally roasted coffee.
Grindhaus Brew Lab has also received several awards and recognition for its outstanding beers. For example, their "Gulf Coast Gose" won a silver medal in the American Sour Ale category at the 2018 Best Florida Beer Championships, while their "Sloth Loves Chunk" beer, a peanut butter and chocolate porter, won a bronze medal in the Specialty Beer category at the same competition.
Image Source: Crooked Thumb Brewery
Crooked Thumb Brewery is a craft beer destination in Clearwater, serving delicious beers since 2016. The brewery is about creating unique and flavorful beers that please any palate. 
Crooked Thumb Brewery offers a variety of beers on tap, including IPAs, stouts, and lagers. One of their most popular brews is the "Tropic Thunder IPA," a juicy and aromatic beer that balances the hop bitterness with tropical fruit flavors. Other notable beers include the "Citrus Gose" and the "Coffee Blonde Ale," which are perfect for enjoying on a hot summer day.
Also Read: The Best Low Purine Beer: Top 10
Brewery Tours and Tastings in Clearwater FloridaTop of Form
Beer enthusiasts have several excellent options for brewery tours and tastings in Clearwater, Florida.
Dunedin Brewery
Tour Times: Available on Saturdays at 2:00 PM and 4:00 PM.
The cost is $10 per person, which includes a souvenir pint glass and a sample of their beers.
Keep an eye out for special events like live music performances and various beer styles release parties, which add to the vibrant atmosphere of the brewery.
Big Storm Brewing Co
Tour Times: Daily tours are available at 1:00 PM, 3:00 PM, and 5:00 PM.
Costs: The tour costs $8 per person and includes a guided tour, samples of their craft beers, and a souvenir pint glass.
Big Storm Brewing often hosts special events, such as live music nights, beer release parties, and food truck rallies. Check their website or social media for updates on upcoming events.
Conclusion
Clearwater, Florida, boasts a vibrant craft beer scene with various exceptional local breweries to explore. Whether seeking a guided tour, sampling flights of unique brews, or attending special events, Clearwater breweries have something to get you smiling.
So, grab a pint, embark on a tour, and immerse yourself in the rich flavors and welcoming atmosphere these top-notch breweries offer. Cheers to an amazing beer-filled adventure in Clearwater, Florida!